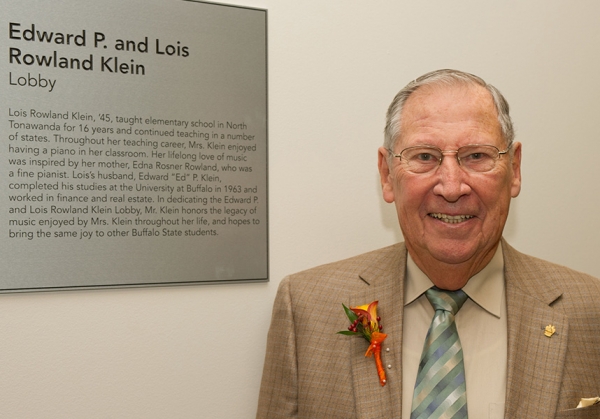 Edward P. Klein
When you enter the third floor of Rockwell Hall, take note of the lobby that leads into the Louis P. Ciminelli Recital Hall. Artfully constructed and lovely, the lobby resonates with the excitement of performances to come and also of a pure love for music held by Buffalo State alumna Lois Rowland Klein.
The space that opens into the state-of-the-art recital hall was named the Rowland Lobby in honor of the 1945 elementary education graduate who passed away in 2011. Lois Rowland Klein's husband, Edward P. Klein (pictured), made a generous gift to the Buffalo State Music Department in honor of his wife's legacy.
Lois Rowland Klein taught second grade at Drake Elementary School in North Tonawanda for 16 years before moving to Ohio and Florida with her husband. During her years at Drake, she always had a piano in her classroom and played for the enjoyment of the children. Her mother, Edna Rosner Rowland, was a fine pianist who taught Lois and her sister Doris to play, as well as providing lessons to many area children.
This wasn't the first gift by the Klein family. Since 2007, they have sponsored the Lois Rowland Klein Piano Recital Series, which brings accomplished pianists to campus annually to both perform and provide master classes for students. Also, Lois Rowland Klein's sister, Doris Rowland Peterson, honored her sister and mother by making a contribution to the Music Department. Buffalo State named the music studio adjacent to the recital hall the Edna Rosner Rowland Teaching Studio.
Lois Rowland Klein's love of music will continue for generations to come at Buffalo State.