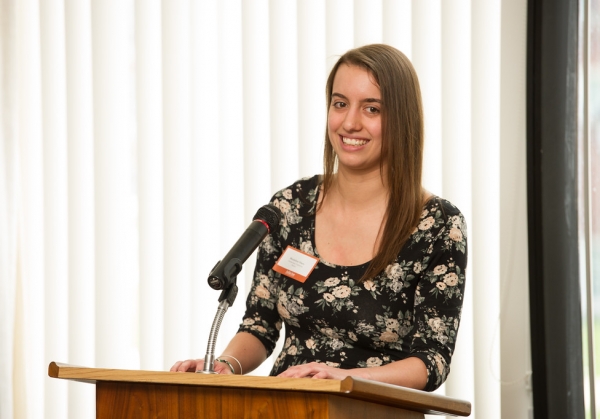 Madeline Otero
For Madeline Otero, '15, a teaching career is not just the sum of its parts—classwork, student teaching, and service-learning projects—but a passion with the underlying goal of making a true difference in children's lives.
"Children need someone who is patient, intelligent and willing to work with them." said Otero, who recently finished a stint student-teaching eighth-grade math at Iroquois Middle School. "I love kids. I think they are the best thing this planet has to offer."
An honors graduate of Frontier High School, Otero chose Buffalo State for its personalized education program and numerous hands-on opportunities, which she said have helped her grow not only as a teacher candidate but also as a person.
"I was very shy when I started college," she said. "Now I'm just the opposite."
As she prepared for college, she knew the financing was solely up to her. Because she worked hard and landed many scholarships, Otero has zero student debt when she graduated with a dual certification in secondary mathematics and elementary education. Her stellar grades—she carried a 3.96 grade point average—her leadership roles, and her community service projects enabled Otero to qualify for numerous scholarships, including some funded through the college's annual Faculty and Staff Appeal.
While she received the Ross B. Kenzie Family Presidential Scholarship, a $2,300 renewable scholarship awarded to high-achieving undergraduates who demonstrate leadership and community service, Otero still needed to work part-time at a local restaurant and apply for other scholarships to cover her expenses. She received the Pano Georgiadis, Hazel G. Macartney, the College Club of Buffalo, Alpha Sigma Alpha Evelyn Bell, and the classes of 1948 and 1949 scholarships.
"Paying for college has been tough, but possible due to the scholarships," she said. "I'm grateful to the people who established them and to the faculty and staff members who contribute to them."
Along with excelling in the classroom, Otero played a leadership role on campus. She served as president of the college's Elementary Education Club, was a member of education honor society Kappa Delta Pi, and was an advisory council member to the Professional Development Schools (PDS) Consortium. In 2014, she presented research at a national conference on how PDS prepares teachers for urban schools.
She said the personal relationships she formed with professors and students in the School of Education made graduating bittersweet.
"It was the best decision to come to Buffalo State—for the teaching preparation and the scholarships that made it all possible."