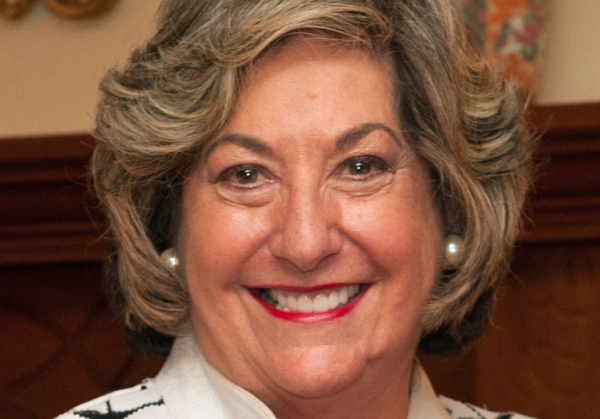 Ilene R. Fleischmann
For Ilene R. Fleischmann, a '73 alumna of Buffalo State's graduate program in English literature, words have shaped a successful career that has always had writing and editing at its core.
It all began with her first job crafting true romance, movie star, and detective stories for a group of national magazines based in New York City and culminated in her current role as vice dean for alumni, public relations, and communications for the SUNY Buffalo Law School.   
"You need to engage alumni by giving them something interesting to read. And we have some of the most engaged alumni of any school on campus," said Fleischmann, with the warm, spontaneous laugh she employs often.
Along with overseeing many law school alumni events, such as the recent 125-year anniversary celebration, Fleischmann edits and writes for SUNY Buffalo Law Forum, SUNY Buffalo Law Philanthropy, and Law Links, among other publications. She also oversees the law school's website, its online and print marketing efforts, and media relations. Her marketing messages are translated into seven languages in 13 countries.
Throughout her career, Fleischmann has demonstrated how far a love of writing and a little determination can take you. After earning a bachelor's degree in English from the University of Pittsburgh in 1967, she headed for New York City where she landed a job as a staff writer with Countrywide Publications, which produced more than 30 pulp magazines, including the aforementioned true romance and detective ones.
"The first year there, writing all day, five days a week, provided the best training for a writing career," said Fleischmann. A few years later she was inspired by two ambitious Washington Postreporters who unveiled the deceptions of then President Richard Nixon during Watergate.
"Woodward and Bernstein gave me a new respect for journalism," Fleischmann said. "I swallowed the Kool-Aid. I believed journalism to be a noble profession with a mission of public service."
For many years, she immersed herself in that profession. In the early '70s, she served as editor of the Buffalo Jewish Review while working toward her master's degree.
"I had amazing, brilliant professors who inspired me—Fraser Drew, William Donnelly, and Charles Lefcourt. Occasionally, I would take page proofs from the Jewish Review to Donnelley for his input," she said. "It was like having an independent study."
She later worked as a features reporter with the Buffalo Courier-Express where she had her own column. When that newspaper folded, she became an editor for Woman's World magazine. She also freelanced for the Buffalo News and national women's magazines including Ladies' Home Journal, Cosmopolitan, and McCall's.
One day in 1985, Leslie Greenbaum, president of the SUNY Buffalo Law Alumni Association, asked her if she would be interested in applying for a job as executive director.
"I told him I was a writer, not an administrator," she said. "But when he said they really wanted someone who could create an alumni magazine, I told him I could do that in my sleep."
UB hired her in 1985 and she's been there ever since, assuming ever greater levels of responsibility and becoming a vice dean in 2006. She created the law school's Forum magazine, which comes out twice a year, as well as Law Philanthropy, which is published annually, Law Links, a monthly newsletter, and a wide variety of other print and electronic publications.
Now Fleischmann wants to help the next generation of writers succeed. To this end, she recently provided an endowed gift for Buffalo State's writing program.
"I want to help Buffalo State provide a deeper and richer experience for students," she said. "If students develop better writing skills while in college, they will be able to perform at a higher level when they get into the real world. It doesn't matter what field a student is studying. Writing and editing skills are essential."
A ceremony to officially dedicate the Ilene R. Fleischmann Writing and Publication Suite located in Ketchum Hall was held in fall 2015.
"This naming is a tribute to the remarkable career achievements of ​Ilene Fleischmann and the excellence of the English Department's faculty and curricula," said Benjamin Christy, dean of the School of Arts and Humanities. "Her generous gift will support the writing program's student publications, visiting lecturers, and student presentations at conferences and other professional events. We are honored and deeply grateful for Ilene's visionary commitment to developing the full potential of Buffalo State's student writers."