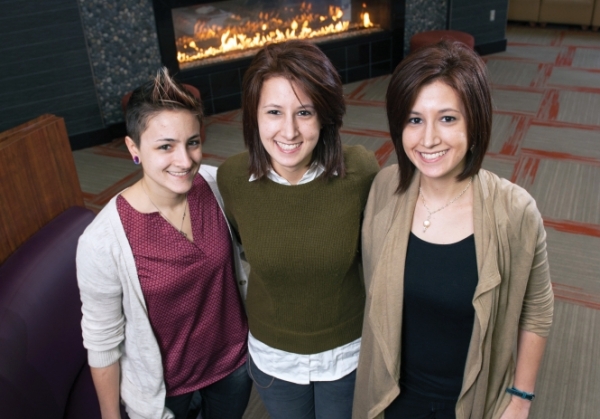 Sarah, Hannah, and Rebecca Twardowski
Meet the Twardowski sisters of Kenmore, New York—Sarah, '15, and twins Hannah, '16, and Rebecca, '16. Each came home to Buffalo State after starting college elsewhere. Each intends to use her career to make a meaningful contribution to society. And each is a proud scholarship recipient.
Rebecca and Hannah, both exceptional and elementary education majors, received grants through Teach for America and have agreed to serve for four years in a high-need, low-income area after graduation in exchange for $1,800 per semester towards tuition.
"We don't know where in the country we'll each go, but we're excited for it," said Hannah, who also benefits from the Troy Lash Scholarship.
Meanwhile, older sister Sarah graduated in May, then moved to Taipei City, Taiwan, to begin work as an English language teacher. She says the scholarships that the sisters have received have opened up a world of opportunity. Sarah benefitted from the Mothers Club of Central Park Methodist Church Scholarship.
The sisters say they get their adventurous spirits and altruistic attitudes from their mother, Marilyn (Schreiber) Twardowski, who graduated from Buffalo State with a degree in social work in 1983 and has built a very successful career in nursing and health care.
They also draw inspiration from those who fund scholarships.
"At the donor breakfast last fall, we were able to sit with Hannah's donors—Troy Lash's parents and his brother. Troy died in a car accident in 2007 and a scholarship was established as a memorial. Spending time with his family makes it very personal and you realize what an honor it is to be a scholarship recipient," said Rebecca, a recipient of the Tri Sigma/David Upton Scholarship.
"Hearing the Lashes' story really made me think about how we spend our time and energy and how precious life is. The Lashes' generosity is inspiring—it's really inspired me to want to do well and to give back however I can," added Sarah.